There's always an element of excitement as the cherry season approaches, and with only two sleeps to go, our Ballinaclash team are certainly all beginning to feel that! We have spent the last few weeks preparing for all of our visitors and are looking forward to welcoming you to our farm.
We have spent the year nurturing and maintaining the orchard (& vineyard), and are very happy with the results both in terms of the quantity and quality of fruit on the trees.
We would now really love the spring storms to pass, however we are hopeful that after this current rain, we might get a smooth run for our picking season. Whilst some of the early varieties have been affected by the rain, the mid-season & later varieties (& the grapes) have benefited. Farmers really are the eternal optimists!
So fingers (& everything else!) crossed, we are in for a good cherry season.
Before you visit, don't forget you need to book Pick Your Own and Wine Tasting online. You can also now pre-order your cherry pies online ready for pick up, to avoid missing out!
We recommend you visit our website just prior to your visit for seasonal updates and you can also conveniently check our local weather via our website so you know what to pack on the day! https://www.weatherzone.com.au/nsw/southwest-slopes/young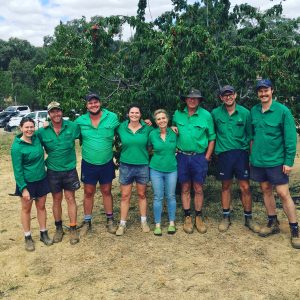 The Mullany  family are looking forward to welcoming you to Ballinaclash.