The 2018 Cherry Festival is officially over however the 2018 Ballinaclash Cherry Season is still going strong.
We had an absolutely amazing weekend with people coming out of the woodwork visiting us to pick their own cherries and apricots in perfect weather.
Although the Cherry Festival is done and dusted until next year's 70th Annual Cherry Festival, here at Ballinaclash we are continuing to welcome our visitors and we still have plenty of beautiful, ripe cherries available.
We have made over a thousand cherry ice cream cones in the last few days and are awaiting our waffle cone delivery as our stocks are running low. There is some very warm weather coming this weekend so make sure if you're visiting Ballinaclash, you grab a cherry ice cream or a Maddy Pop, our refreshing homemade Cherry Ice Block. If you are a regular, you may be interested to know that we've introduced the Ballinaclash Cherry Ice cream Loyalty Card. Make sure you ask us about this next time you visit. 
The oven has been churning out our now famous cherry pies and at times we have had to take them straight from the oven into their boxes as our customers queued at the kitchen door! Don't forget, you can pre-order your pies online to avoid missing out.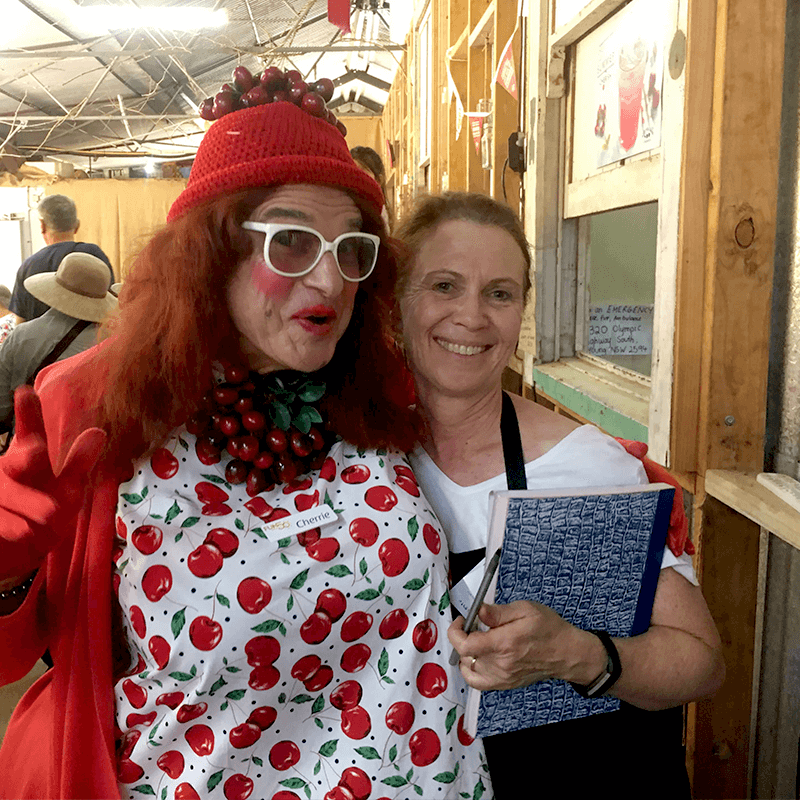 The Cherry Express was enjoyed by many visitors throughout the weekend, whilst others chose to walk into the orchard. Many keen pick your owners took advantage of our extended opening hours last Saturday as we did our first 12 hour pick your own day from 8am to 8pm. The cooler, evening conditions were very pleasant for picking. 
We have our freshly picked cherries in our farmgate shop, as well as tasty apricots and juicy peaches and plan on being open until close to Christmas.
This morning, Pete and Ned are visiting our very accomplished wine makers, Chris Derrez and Lucy Maddox. They have the enviable task of barrel tasting our 2018 Shiraz and Touriga. We are very excited about bottling these, so stay tuned for updates on this. This will be our first ever Ballinaclash Touriga.
Facebook | Instagram | Plan your visit